In order to stand out from the competition and get clients, visitors or guests to think of you the next time they need your services, you need something they'll remember you by!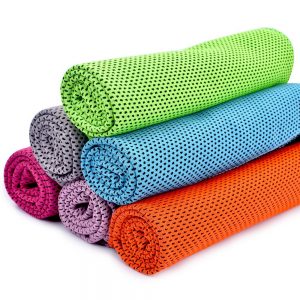 That means a corporate gift they'll use on a regular basis rather than just chuck in their desk drawer and forget the minute they get back to the office. Well, that's where our fabulous new cooling towel comes in to play. And we literally do mean 'play' because it's the type of item that's perfect for cooling your clients down at the gym, on the golf course, on the beach or when sitting by the pool!
This is no 'ordinary' towel
We feel perfectly justified in borrowing that infamous M&S strapline since the Cooling Towel we're offering really does has special qualities your clients will come to love and appreciate.
The clue is in the name. The 'cooling' towel really does do what it says i.e. you wet it, it retains the cold water and hey presto – your clients have an instantly cold and refreshing towel to place on whichever part of their over-heated body needs it most. Such is the towel's cooling ability that even migraine sufferers who've used it swear by its soothing properties.
The science behind the JSM Brand Exposure Cooling Towel
It's not rocket science, but it is science of a sort. That's because the technology involved in the Cooling Towel is all down to a special multi-yarn cooling fibre which can take in as much water as twice its weight. It absorbs perspiration when dry and when wet, moves water particles around so that the towel stays cool, but not wet for hours on end.
All your clients have to do to activate the Cooling Towel is dip in water – whether that's at the pool, in the sea or under the tap – then give the towel a quick snap to activate the technology. It really is that easy!
Advantages of our JSM Brand Exposure Cooling Towel
As well as being impressive in its ability to cool you down, the Cooling Towel is re-usable; simply pop it in the washing machine to refresh. There are no chemicals involved because it's produced from 100 per cent microfiber material.
Measuring 30cm x 90cm, the Cooling Tower is lightweight and easy to carry around, breathable and soft, with a sun protection factor of 50. With your company logo shown prominently the recipient will always remember you!
The Cooling Towel is available in a range of colours and is perfect for the summer. So, if you want to remain uppermost in your clients' minds during the hot weather, give them something to thank you for in the form of the Cooling Towel. It's a winner!
To order the impressive JSM Cooling Towel for your clients or employees this summer call us on 01452 310030.