Sales promotions are an excellent short term method for boosting your profits and encouraging more people to buy from you. If you want to encourage repeat purchases or make customers remember you, then promotional products are great for this purpose – research shows that they are the best advertising tool to inspire loyalty and make people feel appreciated.
There is practically no limit on what can be branded today with a huge amount of promotional products to choose from to reward loyalty, develop leads or to create a buzz – and let's be honest, most people love a freebie!
With so many products to choose from, how do you start to plan your next sales promotion? Check out these creative campaigns that have incorporated promotional products and were a huge hit….
Heinz 'What bean are you?
When Heinz launched their new 'Five Beanz' tin made up of haricot, red kidney, pinto, cannellini and borlotti, they used social media to encourage sales and build brand awareness. Consumers had to complete a quiz which analysed what bean you were most like. A winner was then picked every hour for each 'bean' who then received a personalised bean with their name on it. Everyone who invited at least 10 of their friends to complete the quiz was sent a goody bag.
The campaign reached 10.8 million people on Facebook and grew their followers by over 30,000 people. 22,000 people took the quiz and more than 10,000 shared the app.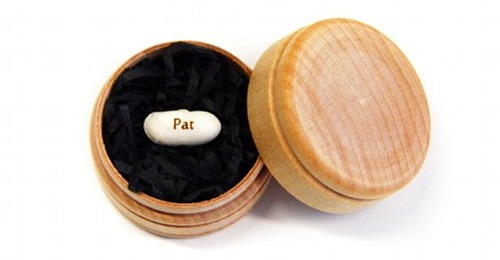 Source: We are Social
KitKat – Win Joe the Mug
As part of an on-pack promotion, KitKat gave consumers the chance to win one of 50,000 heat changing Joe the Mugs. Every mug had a face on one side, and when hot water was poured in to the mug it revealed a message on the other side. To win, you had to enter a 12 digit code, found on the inside of each promotional KitKat wrapper, online to see if it was a winner.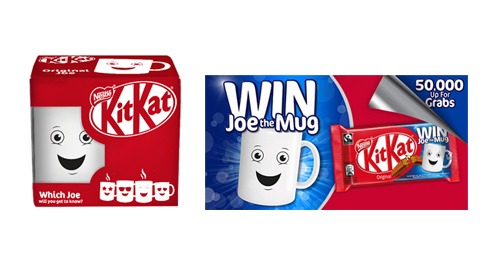 Source: Nestle
McDonalds – Cardboard VR Headset
To celebrate the 30th anniversary of the Happy Meal in Sweden, McDonalds turned its happy meal boxes into 'Happy Goggles'. The box could be turned into a Google Cardboard-style VR headset which could be then be used in conjunction with a downloadable 360 VR skiing game app. The campaign aimed to reach out to family customers and offer an experience that focused on play and learning.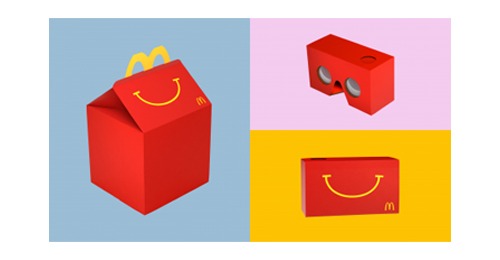 Source: mobile marketing magazine
Andrex – 40th Anniversary Puppy
Andrex partnered with the Guide Dogs charity to raise much needed funds to train 40 guide dogs. As an additional customer reward, Andrex created a limited edition collectable soft toy puppy complete with a Guide Dogs training jacket. Consumers had to enter unique codes online to redeem 5 Andrex rewards and pay £3.99 including P&P to get the toy. 50p from each sale went directly to the Guide Dogs charity.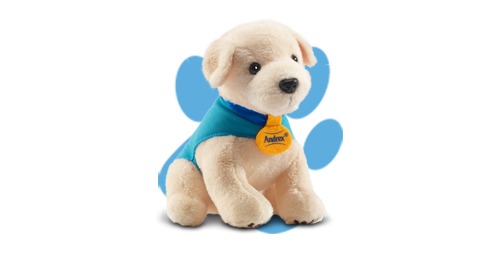 Source: The Drum
_________________________________________________________________________________________________________________________________________
Whatever promotional product you choose, try to make it useful, have a perceived value to your target audience, make it long lasting and related to your business.
While branded pens are still a popular and effective way to promote yourself, a creative campaign with promotional products – when used correctly – can make all the difference.