So you're ready to order your promotional products – what happens next?  One of the most common questions we are asked is "How do I need to provide my artwork?"
Here are some of the important things you should think about to make the process a bit smoother…
What should you print on your promotional products?
What is the print area? Each product will have a specified dimensions so you know how much room you have for your promotional message. A pen will obviously have a smaller print area than a notebook for example. Simple is best – a clear logo or strapline will stand out much better than a complicated paragraph of text.
Want a specific colour? Keep in mind that you want your message to stand out – so a good contrast (e.g. white on black) is important.  Some promotional products can be pantone matched if you use particular colours in your logo. This could be the product itself or the colour used to print on to the product.

Supplying your artwork
"We need your artwork as an AI or EPS file" is a common phrase you will hear when ordering promotional products. But what exactly does it mean and how does it affect your order?!
The preferred format is a vectorised eps/pdf file. Vector art is created using vector illustration software such as Adobe Illustrator or Corel Draw. These programs create points, lines, and shapes for artwork that can be scaled without any loss of quality. There may be extra time and cost involved if you need this done for you.
These are some of the common artwork issues we encounter:
A jpg file placed into Illustrator document is not vector format – it's just an image saved with a different file extension and is not suitable
Fonts not converted to outlines and images not embedded -– it means that if you use a particular font and we don't have it, then we may have to substitute it for something else. The same for the image, if it's not embedded then it will be missing when we open your file
Images taken from a website – these are usually saved at a low resolution so are not good enough quality for printing purposes. We recommend looking at stock image websites you can purchase high resolution images from if you are stuck

Signing off your artwork
We always send an electronic proof so you can check you are happy with positioning, spelling etc on your promotional product. It is important to carefully check everything is correct as, once signed off, your order goes into production.
Popular Personalisation options
Printing – the most common and cost effective technique which can be Pad Printing (applying ink with a pad) or Screen Printing (applying ink using a stencil on a material screen)
Engraving – Involves the use of specialist computer machinery that carves the logo into the product. Great for metal products.
Embroidery – stitching your logo onto material products such as t-shirts, caps or bags.
Debossing – a heated metal plate leaves a hollowed impression of the artwork/logo on the item. Suitable for leather and PU products like notebooks and folders.
Foil Blocking – Using a similar technique to debossing, but adding a colour foil to the plate which imprints on to the product. Silver and Gold are popular choices.
Doming – Using a self adhesive label.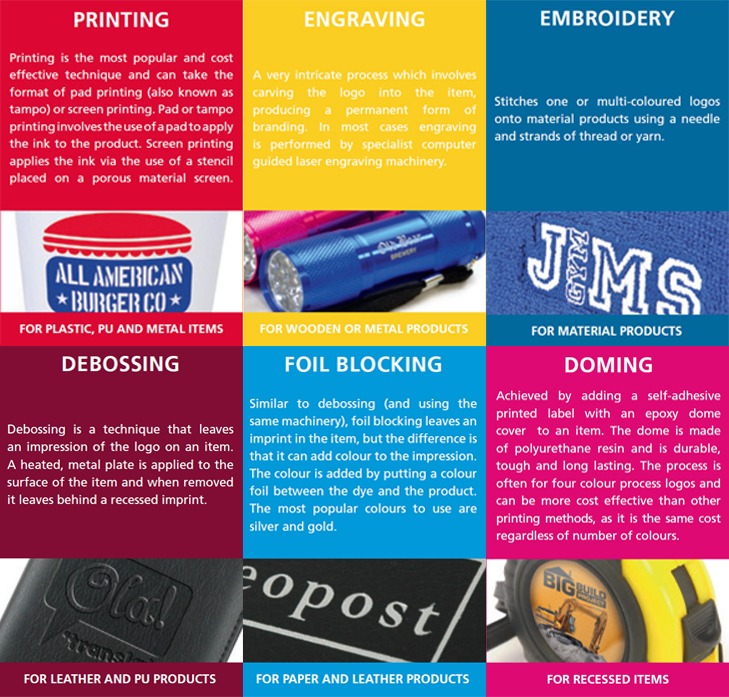 ---
Talk to an expert! We can guide you through the whole process, and make sure you get the most out of your promotional products. If you need some help with your artwork, please call us or email info@jsmbrandex.com