How to use promotional clothing?
Whether you have a specific uniform for employees or you've got a trade show or exhibition coming up and want your staff to look the part, you need the perfect promotional clothing to look the part. We have a good range available, from budget T-shirts to winter jackets, all in a variety of eye-catching colors with the option of printing or embroidering your logo or company name for a professional and coordinated look.
Long lasting advertising
Promotional clothing is a long lasting way to advertise your company. According to an ASI study* quality and utility are why people keep promotional items with the average length of time a consumer keeping outerwear and t-shirts is 16 months. They're being used on a daily basis, helping people at work, in school, on the field, on the go or at home. Promotional clothing also increases your brand visibility generating on average 5,125 impressions.
If you're not sure where to start with your promotional clothing, check out the following infographic to get an insight of how other brands are using them: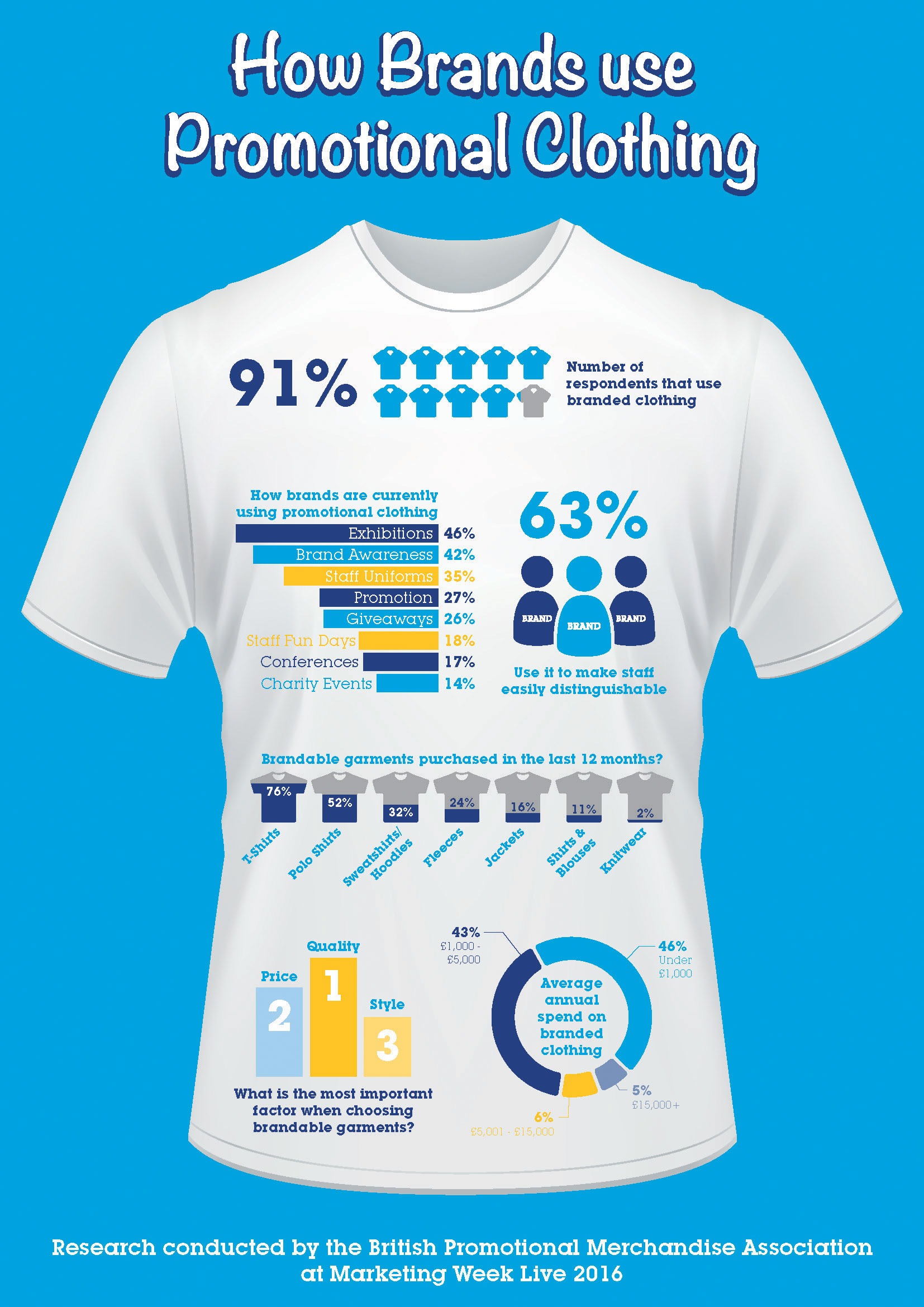 Promotional Clothing Decoration Techniques
Embroidery: This classic method creates depth and detail by stitching threads directly to a garment. Embroidery is long lasting and designs are usually small so high quality artwork is a must.
Screen Printing. A popular method where the image is printed on to the fabric by pushing ink through a mesh screen. Screen printed designs last for a good length of time, wash well and is the best process for large designs.
Transfer Printing:  Using a heat press, the design is transferred to the garment using either vinyl or a design printed onto a special sheet. This method is great for smaller orders or speciality finishes.
We will always advise which method is best depending on your artwork and garments that you have chosen.
___________________________________________________________________________________________________________________________________
Need some advice on buying promotional clothing? Get in touch today and we'll be happy to help!
Infographic courtesy of the BPMA
*ASI – Advertising Speciality Institute global survey, which demonstrates the clear value of promo products.